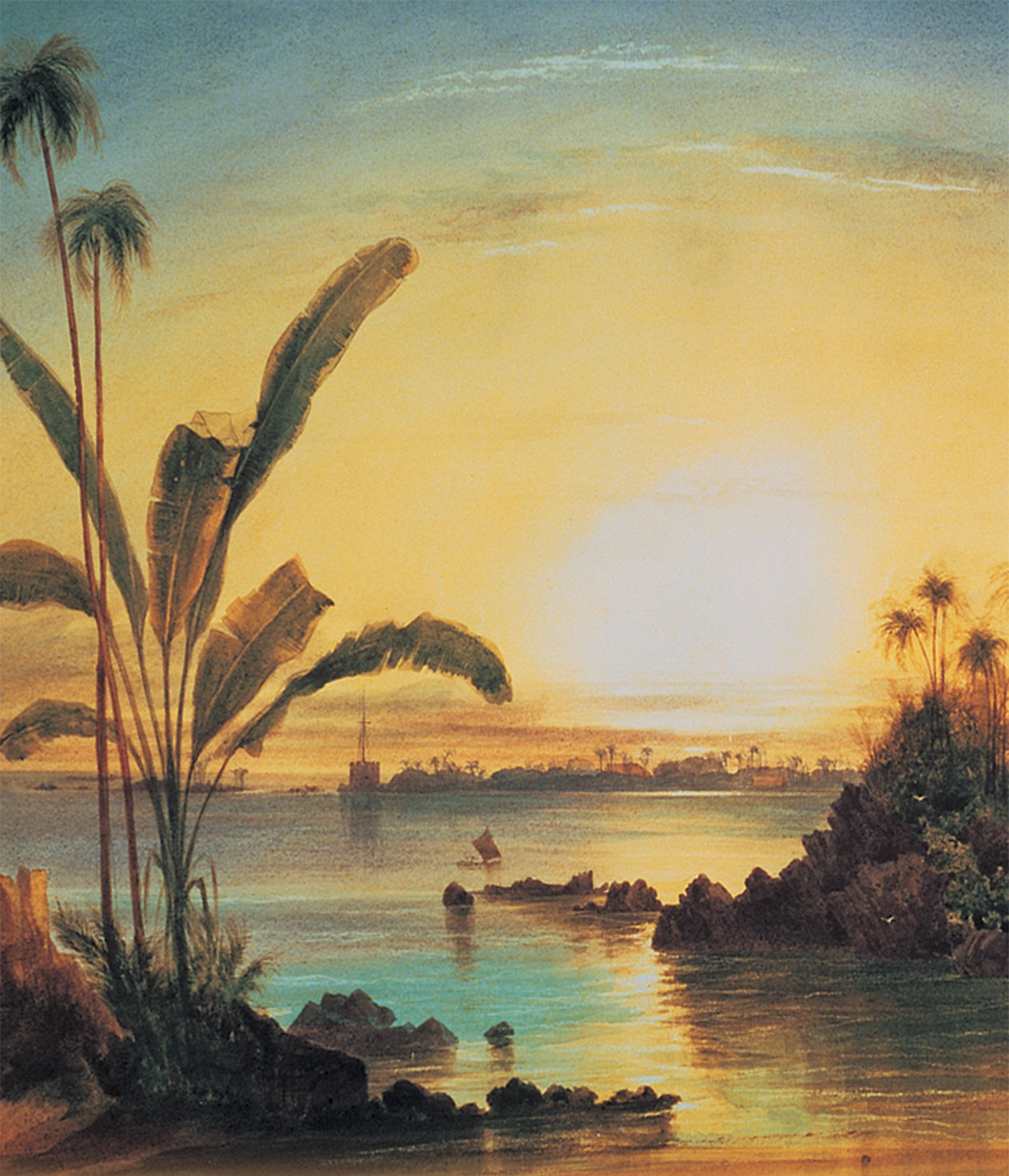 Oliphant and sunset over Galle
Our Ceylon Signature blend is named after Sir Anthony Oliphant, Chief Justice of Ceylon in 1838, who allowed his estate to be planted with tea seedlings, under the supervision of The East India Company.
It was then James Taylor 'The Father of Ceylon Tea' who commercialised tea production 30 years later.
Sri Lankan tea was born - bright and vibrant - much like Galle, the subject of the artwork on our Signature Ceylon Tea. On the southwest tip of [now] Sri Lanka, Galle was both an important port (trading cinnamon back to 1400s) and fort, of value to the Portuguese, the Dutch, then the British.
This evocative scene of a view to Galle was painted by Belfast born Andrew Nicholl c. 1850, a teacher of painting at Colombo Academy. Well regarded, Queen Victoria was a collector of Nicholl's work.
Sir Anthony Oliphant's Ceylon Loose Black Tea Caddy 125g
Net Weight: 125g
A classic light pure Ceylon loose leaf tea is named after Chief Justice Sir Anthony Oliphant, owner of the first estate in Ceylon. He had the vision to spread tea production to new and wonderful countries.
Our Ceylon Signature blend is named in celebration of Sir Anthony Oliphant, Chief Justice of Ceylon in 1838, who with the help of the East India Company and the eminent botanists of the day, planted tea seedlings in his estate in Nuwara Eliya, so starting the journey of Ceylon now Sri Lanka to becoming the 4th biggest tea producer in the world today.

We've chosen a classic high grown black tea blend for our Signature range, a splendid tea for the afternoon when something lighter but aromatic is required.
Sri Lanka is a tea growing island nation with six main growing areas, that produce very distinctive teas in each.

This blend is a high high tea from Nuwaar Eliya, the home to Oliphant's Estate and probably the finest tea region in the country. At 1600 metres above sea level it produces teas with a lighter, aromatic quality, including some very fine white teas.

Another region is Kandy, further north, where the 'Father of Ceylon Tea' James Taylor first planted, at a slightly lower elevation.

The Dimbula and Uva regions are both high grown, to the west of Nuwara Eliya. Galle, a low-growing region is in the south and finally Ratnapura a lower land region, near to the west coast capital Columbo.
A beautiful bright, golden colour in cup.

Fragrant, perfumed aroma.

A light and well-balanced, smooth tea. It's refreshing."
Just the tea you need for Afternoon Tea.
2.5G OF TEA LEAVES PER CUP
200ML OF WATER AT 100ºC
4-5 MINS BREWING TIME
Black Tea
Store in a cool, dry place avoiding direct sunlight and strong odours. Once opened, store in an airtight container and consume within 3 months.
Our spirit delivers no ordinary products
FAQ

Does this tea contain caffeine and is there more or less than in coffee?
Yes, all tea like coffee, contains caffeine. The amount in both teas and coffees does vary, depending on the type, but typically Sri Lankan black tea is lighter than other teas in caffeine content, usually between 50 and 90mg for a normally brewed 230ml serving. This compares to about 95mg for a normal cup of coffee. The best advice is to treat tea and coffee similarly if you need to manage your caffeine intake.

I've heard that tea contains theanine. What is it and what does it do?
Tea does indeed contain theanine, which is an amino acid [the building blocks of proteins]. Tea is one of only a few sources of theanine. It represents about 1% of dry weight and is at its highest concentrate in shade-grown teas like matcha and gyokuro. Whilst not yet proven in scientific studies that would permit specific health claims to be made, it is believed by many to be able to reduce mental and physical stress, promote relaxation and a sense of well-being. But not only that, it is more recently being thought to aid cognitive function. It's one explanation for tea's famous ability to create calm in a crisis [the Great British solution to all problems – 'putting the kettle on'] and to stimulate when a little boost is required.

Delivery & Returns

UK Standard Delivery: £3.95
UK Next Day Delivery (mainland UK only): £9.95 (Order before 12pm)
International Delivery is available, please see our delivery page for details. For more information and Terms & Conditions, please see our Delivery page.