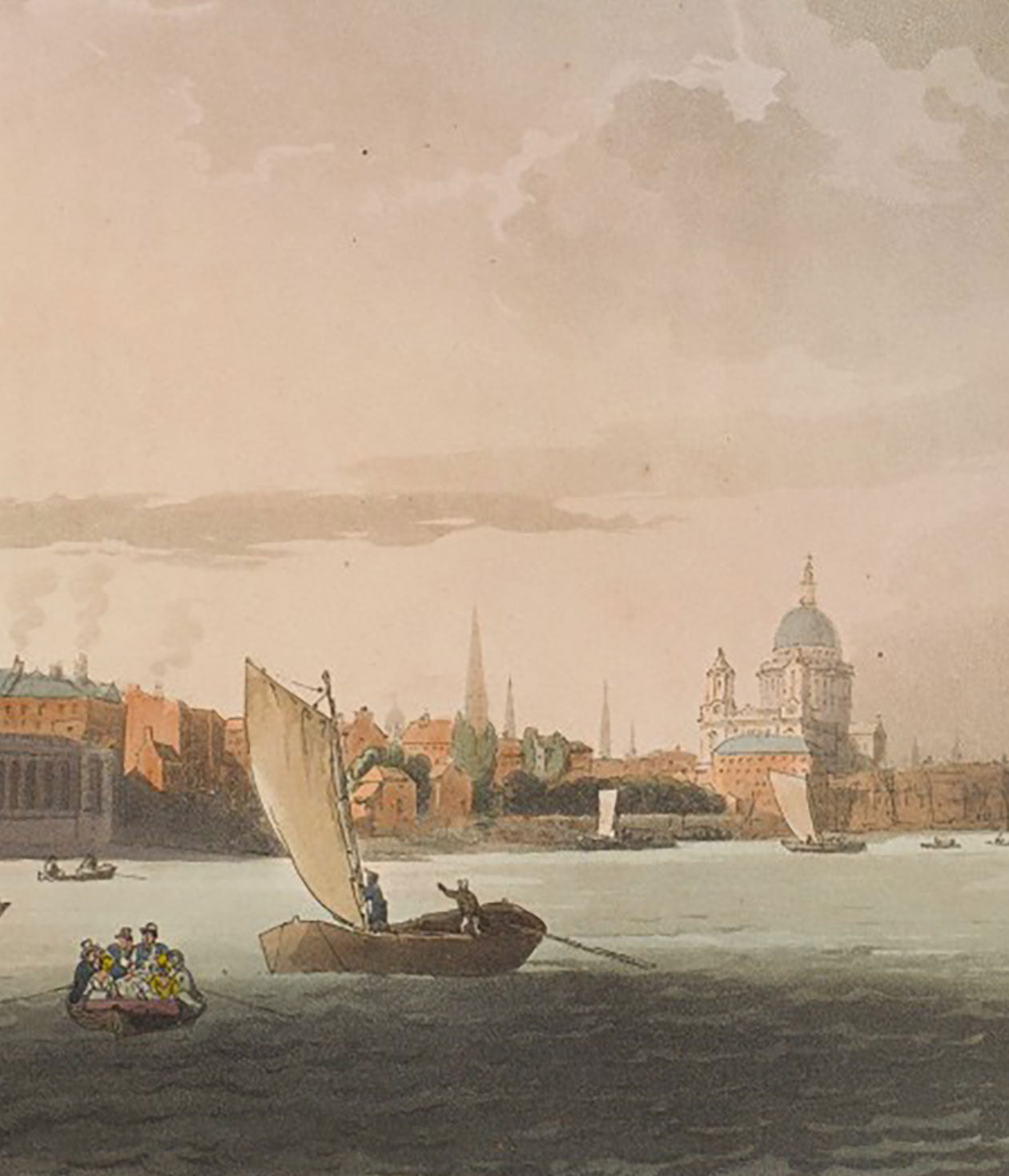 A View of London from the Thames
For our Signature Peppermint, we've chosen a splendid illustration, a 'View of London from the Thames' by John Bluck, included in one of the 3 volumes of 'The Microcosm of London', one of the most beautiful books of the 19th century.
Owning a copy was a luxury of the day at 15 guineas (£1,000 today).
Produced through a series of collaborative efforts coordinated by the German-born printseller Rudolph Ackermann from his shop, the 'Repository of Arts' at 101 Strand.
An innovative publisher and inventor in touch with the zeitgeist of the time - his shop was one of the first in London to be lit by gas.
He spotted a gap in the market for a grand all-inclusive volume on London, bringing together the talents of the best artists and engravers of the day, displayed alongside current views, news and trivia.
Peppermint Herbal Infusion x 10 Pyramid Bag Sachets
Net Weight: 20g
Made from the finest English Mitcham black peppermint. Naturally caffeine free, with a pleasant and invigorating taste in a convenient pyramid bag. Wonderfully refreshing no matter the time of day.
Mint was an essential accompaniment on the long voyages of the pioneering East India Company sailors, but it was first drunk long before. The ancient Egyptians enjoyed a cup of peppermint tea, and later both the Romans and Greeks used it for it as a digestive aid.

Still used as a digestive by many, its one of the most popular herbs in the world, because it tastes great - the world loves a 'peppermint tea'.

We've chosen a variety of Black Mitcham peppermint, grown in the English countryside, although once a native of Tasmania. It has darker almost purple leaves and is loved by bees.
This variety is high in natural oils, and these give the tea a wonderful aroma and flavour.

As your peppermint tea brews, a clear golden, yellowy liquour emerges.

It has a classic, strong peppermint flavour, refreshing and invigorating.
1 PYRAMID BAG PER CUP
200ML OF WATER AT 80ºC
3-4 MINS BREWING TIME
Most peppermint 'tea' is made hot, but it makes a refreshing and healthy summer cooler.

Instructions for a 200ml single serve:

- Put 1 pyramid teabag in your mug
- Create a more concentrated brew than normal - so just cover with boiling water [about 50 ml max] and leave to brew for 10 minutes
- Discard the teabags and whilst the brew is still warm, add a spoonful of honey to add a little sweetness, to your taste
- Now add ice to a tall glass and pour over the peppermint brew
- Top up up with sprakling water
- Add a sprig of mint from your herb garden, and enjoy.
Pure natural peppermint leaves.
Store in a cool, dry place avoiding direct sunlight and strong odours.
Our spirit delivers no ordinary products
FAQ

What are the health benefits of peppermint tea?
Whilst peppermint has been used for centuries medicinally, scientifically proven benefits are still thin on the ground despite many small studies. One of the most commonly reputed benefits is its ability to relax the digestive system and therefore to ease indigestion and bloating. Hence many across the world believe in the benefit of drinking a peppermint infusion after dinner.

Delivery & Returns

UK Standard Delivery: £3.95
UK Next Day Delivery (mainland UK only): £9.95 (Order before 12pm)
International Delivery is available, please see our delivery page for details. For more information and Terms & Conditions, please see our Delivery page.